Zeiss LSM 880 Airyscan
Type
Laser scanning confocal microscope
Capabilities
Super-resolution confocal imaging – resolution of 140nm, xy and 350nm, z in fixed and live 2D/3D cells
Improved sensitivity imaging (Improved signal to noise) – 4x to 8x more sensitive than Zeiss LSM 780 in fixed and live 2D/3D cells
Faster imaging – 27 frames per second at 480 x 480 pixels in fixed and live cells
Fluorescent Correlation Spectroscopy (FCS)
Laser Lines
405, 458, 488, 514, 561, 594, 633 nm
Objectives
10x, dry, 0.45NA, 2.0 mm
20x, dry, 0.80NA, 0.55 mm
40x, water, 1.2NA, 0.28 mm
40x, oil, 1.3NA, 0.21 mm
63x, oil, 1.4NA, 0.19 mm
63x, multi-immersion, 1.2NA, 0.49 mm
20x, dry, 0.80NA, 0.55 mm
40x, water, 1.2NA, 0.28 mm
40x, oil, 1.3NA, 0.21 mm
63x, oil, 1.4NA, 0.19 mm
63x, multi-immersion, 1.2NA, 0.49 mm
Detectors
(2) Multialkali photomultiplier tube (MA-PMT)
Spectral Detector – 32 Channel Gallium Arsenide Phosphide Photomultiplier Tube (GaAsP PMT)
Airyscan detector – array of 32 individual GaAsP-PMT elements that act as a pinhole size of 0.2 Airy units (AU)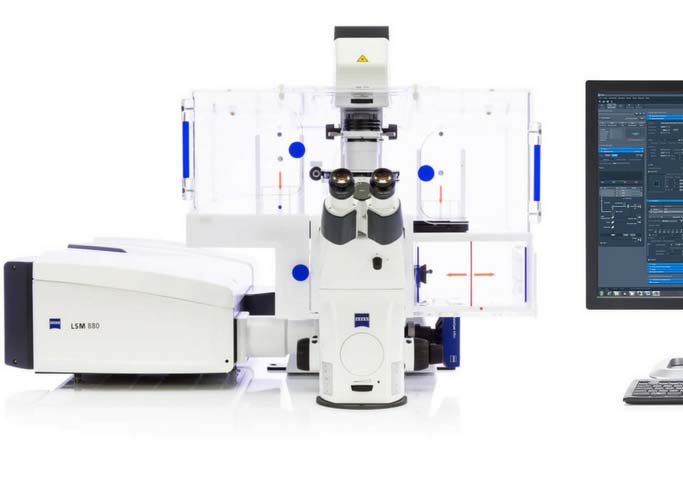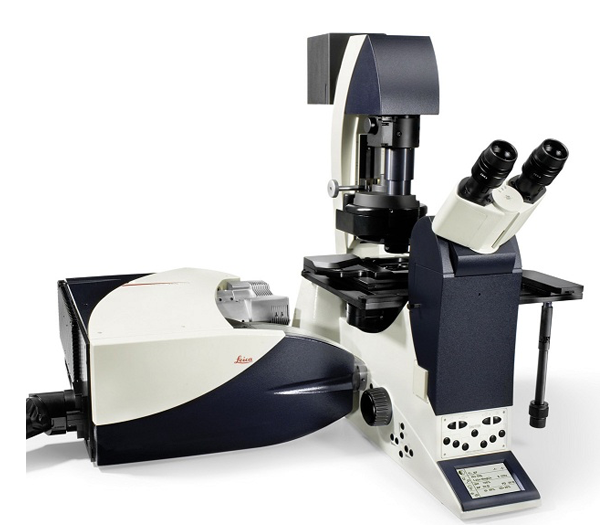 Leica SP8 with Digital Lightsheet
Type
Laser scanning confocal with digital lightsheet microscope
Capabilities
2D / 3D imaging of fixed or live fluorescence-labeled samples
Imaging of interactions and dynamics of fluorescence labeled molecules
Digital light sheet imaging of cleared large 3D samples both fixed and live
Spectral Imaging
Forster Resonance Energy Transfer (FRET)
Fluorescence Recovery After Photobleaching (FRAP)

Laser Lines
Laser Lines
Objectives
1.6x, dry, 0.05NA*
2.5x, dry, 0.07NA, 9.2 mm*
5x, dry, 0.15NA, 12 mm
5x, multi-immersion, 0.15NA#
10x, dry, 0.4NA, 2.2 mm*
10x, water, 0.3NA, 3.6 mm#
20x, multi-immersion, 0.75NA, 0.67 mm
25x, water, 0.95NA, 2.5 mm#
40x, dry, 0.85NA, 0.21 mm
63x, water, 1.2NA, 0.30 mm,
63x, oil, 1.4NA, 0.14 mm
100x, oil, 1.4NA, 0.13 mm
*Illumination objectives for Digital Lightsheet
#Detection objectives for Digital Lightsheet

TwinFlect Mirrors for Digital Lightsheet

7.8 mm width; Sample Immersion Liquid – Glycerol, Water; Illumination Obj. – 1.6x, dry; Detection Obj. 5x, multi-immersion or 10x, water
5 mm width; Sample Immersion Liquid -Water; Illumination Obj. – 2.5x, dry; Detection Obj. 10x, water or 25x, water
2.5 mm width; Sample Immersion Liquid -Water; Illumination Obj. – 2.5x, dry or 10x, dry ; Detection Obj. 10x, water or 25x, water
Detectors
(1) Photomultiplier tube
(2) Hybrid detectors (HyD)
Instructions
Andor spinning disk confocol on Leica DMi8 base
Type
Spinning disk confocal
Capabilities
2D / 3D imaging of fixed or live fluorescence-labeled samples
Imaging of interactions and dynamics of fluorescence labeled molecules
Large area montages
Laser Lines
405, 445, 488, 514, 561, 594, 640, 730 nm
Objectives
1.6x, dry, 0.05NA
5x, dry, 0.15NA, 12 mm
10x, dry, 0.4NA, 2.2 mm
20x, dry, 0.75NA, 0.62 mm
63x, water, 1.2NA, 0.30 mm,
63x, oil, 1.4NA, 0.14 mm
Detectors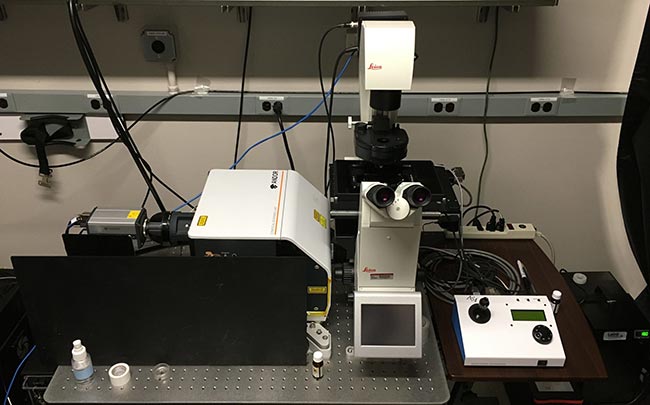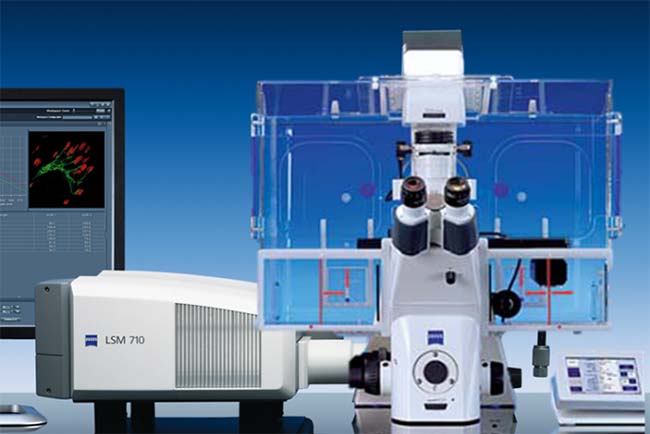 Zeiss LSM710
Type
Laser scanning confocal microscope
Capabilities
2D / 3D imaging of fixed or live fluorescence-labeled samples
Imaging of interactions and dynamics of fluorescence labeled molecules
Laser Lines
405, 458, 488, 514, 561, 594, 633, 690 – 1000 nm (pulsed)
Objectives
5X, dry, 0.15 NA, 13.6 mm
10X, dry, 0.45 NA, 2.00 mm
10X, water, 0.45 NA, 1.8 mm
20X, dry, 0.4 NA, 7.9 mm
40X, water, 1.1 NA, 0.62 mm
63X, oil, 1.4 NA, 0.19 mm
Detectors
Photomultiplier tubes
Spectral detector
Instructions
Zeiss LSM780
Type
Laser scanning confocal microscope
Capabilities
2D / 3D imaging of fixed or live fluorescence-labeled samples
Imaging of interactions and dynamics of fluorescence labeled molecules
Live animal imaging
Laser Lines
405, 458, 488, 514, 561, 633, 690 – 1000 nm (pulsed)
Objectives
10X, dry, 0.3 NA, 5.1 mm
20X, dry, 0.8 NA, 0.55 mm
20X multi-immersion
20X water (dipping lens, not on turret), 1.0NA, 0.19 mm
40X, water, 1.1 NA, 0.28 mm
40X, oil, 1.3 NA, 0.2 mm
63X, oil, 1.4 NA, 0.19 mm
Detectors
Photomultiplier tubes
Spectral detector
Non-descanned detectors (for use with 2P laser)
Fluorescence life-time detectors
Instructions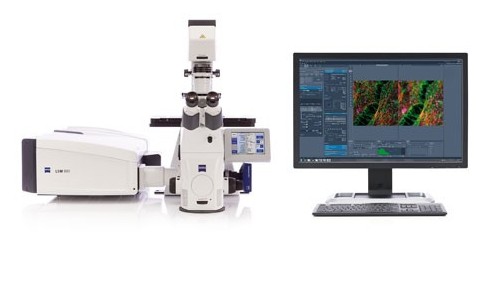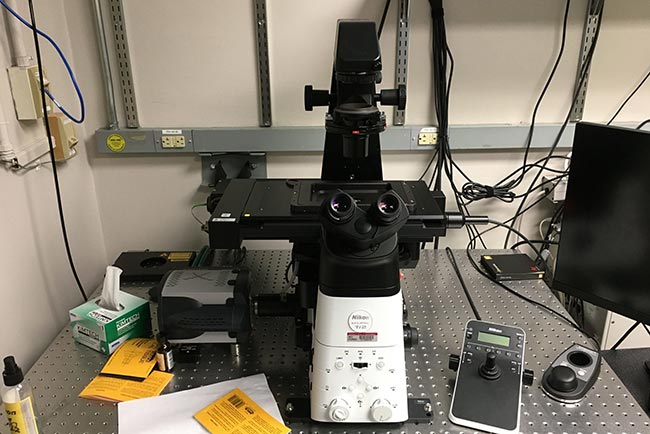 Nikon STORM
Type
Widefield super-resolution microscope for fixed cells only
Capabilities
Super-resolution by Point Localization Microscopy – resolution 20nm in xy and 50nm in z.
Recommended modality is dSTORM with CF-647 dye (improved version of Alexa Fluor 647 dye).
Laser Lines
Objectives
100x oil, 1.49 NA, 0.13 mm WD
100x silicon oil, 1.35 NA, 0.3 mm WD
Cameras
Nikon SIM
Type
Widefield super-resolution microscope for fixed cells only
Capabilities
N-SIM: Super-resolution Structural Illumination Microscopy (SIM) – resolution of 110nm in xy and 275nm in z. Compatible with conventional immunofluorescent staining.
"External-phase" trans-illumination imaging (on side eye-port camera), which is useful for correlative light/electron microscopy. None of the high NA objectives on this microscope are compatible with regular phase imaging.
Laser Lines
Objectives
10x, dry, 0.3 NA, 16 mm WD
60x water, 1.27 NA, 0.17 mm WD
100x oil, 1.49 NA, 0.13 mm WD
Cameras
Andor iXON DU-897E for SIM
Nikon DS-QiMC for external phase microscopy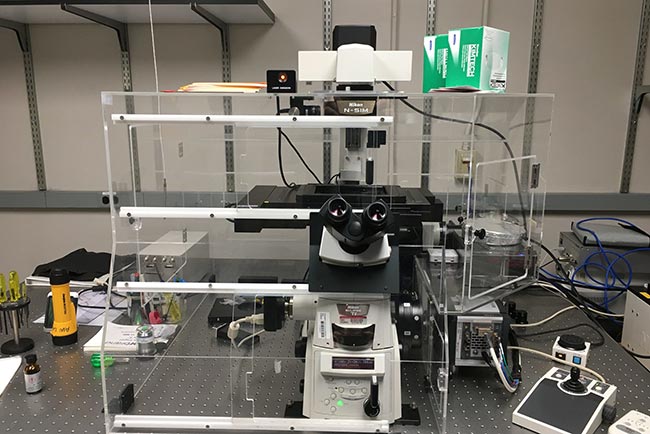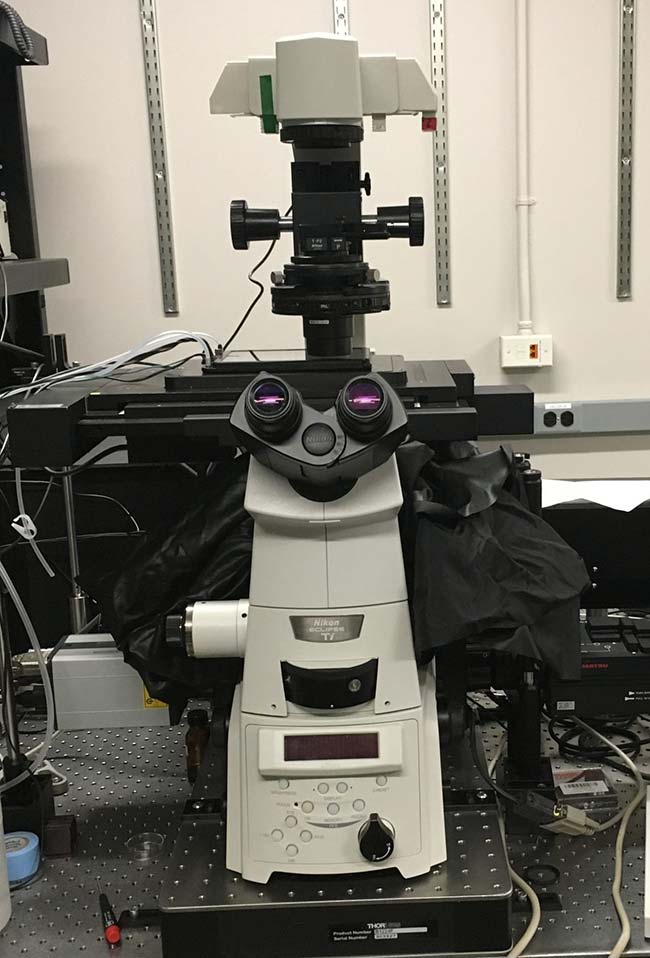 Nikon Multifunctional Microscope (MFM)
Type
Widefield
Capabilities
2D / 3D imaging of fixed or live fluorescence-labeled samples
High content analysis
TIRF
Polarization imaging
Simultaneous 2-color imaging
Single molecule imaging
Excitation lines
(LED illuminator)
395, 440, 470, 508, 555, 640 nm
Objectives
4X, dry, 0.13 NA, 16.5 mm
20x, dry, 0.75 NA, 1.00 mm
60X, oil, 1.40 NA, 0.13 mm
100X, oil, 1.45 NA, 0.13 mm
Detectors
Andor NeoZyla sCMOS camera
Andor iXon Ultra EMCCD camera
Asylum Research Cypher-VRS
Type
Atomic force microscope
Capabilities
Video-rate scanning for molecular dynamics imaging
Contact and tapping mode imaging in air and liquid environments
Force spectroscopy
Mechanical mapping
Temperature control
Perfusion chamber
Semi-automated probe alignment and calibration
Built-in analysis tools
Objectives
20X reflective objective for cantilever setup and sample locating
Sample formats
Standard imaging: 10 mm diameter substrate
Video-rate imaging: 3 mm diameter substrate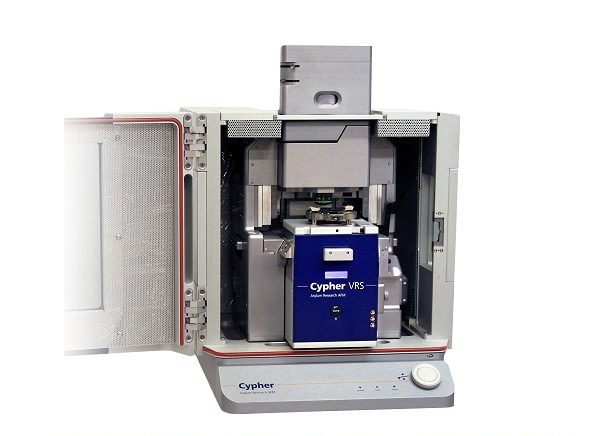 Celigo
Type
Plate reading microscope
Capabilities
Built in analysis tools
Fast, widefield imaging of entire well for multiwell plate
Built in protocols for live/dead counting, growth curves, spheroid analysis etc.
Excitation/Emission filters
Blue 377/477
Green 483/536
Red 531/629
Far Red 632/692
Brightfield
Objectives
1 objective optimized for entire well imaging & built in analysis features
Sample formats
Works best with supported/recommended plates
Microwell plates: 6, 12, 24, 48, 96, 384, 1536 wells
Slides
10 cm Petri Dish
T25 Flasks
Instructions